On Thursday, September 22, the Jefferson Community Collaborative had its Fall Kickoff Meeting in person for the first time in over two years at Salvatore's in Baldwin. The group of nearly 100 attendees engaged in networking throughout with the focus of the meeting centering around:
Introducing incoming Jefferson Regional Foundation CEO, Dr. Trisha Gadson to the Jefferson Community Collaborative members

Inspiring Collaborative organizations to commit to one or many voter engagement actions as a Voter Engagement Champion

Educating Collaborative organizations regarding opportunities to utilize the Jefferson Votes toolkit, mini-grant opportunities, and panel discussions

Sharing initial data from the Our Changing Communities initiative

Understanding the capabilities for searching and updating your organizational listing in the new online Jefferson Community Directory
Our next in person Collaborative meeting is on Thursday, November 17 from 9:30-12:00pm. Details to come soon!
Instructions for organizations to search, view and edit their listing in the Directory can be found by clicking the image below or visiting our Directory page here.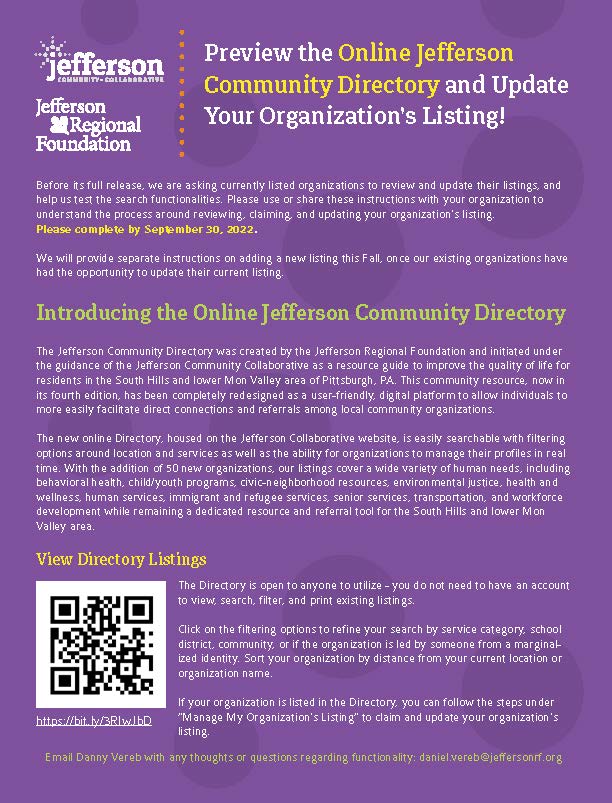 Slides from the presentation can be found here.