On Thursday, November 17, the Jefferson Community Collaborative had its second meeting of the 2022 season at The Georgetown Centre in Pleasant Hills. The group of over 100 attendees received updates on Foundation initiatives including the Jefferson Community Directory, Jefferson Votes, and the Our Changing Communities data project.
The main focus of the meeting was listening to community voice within the Jefferson footprint. Attendees participated in a human-centered activity where they self-identified in one of five geographic regions that their organization primarily services. Groups identified community strengths and needs. The feedback from these discussions will inform the Jefferson Regional Foundation's continued strategic vision process. Our geographic areas are listed below: 
Bethel Park, South Park, Pleasant Hills, Jefferson Hills
Brentwood, Baldwin, Whitehall
Forward, Elizabeth Township, Elizabeth Borough, West Elizabeth
West Mifflin, Homestead, West Homestead, Munhall, Whitaker, Duquesne
Clairton, Port Vue, Dravosburg, Glassport, Liberty, Lincoln, Versailles, South Versailles, McKeesport
Our next in person Collaborative meeting is on Tuesday, February 14 from 10:00-12:00pm at the Allegheny Intermediate Unit. Details to come soon!
Instructions for organizations to search, view and edit their listing in the Jefferson Community Directory and add a NEW Listing to the Directory can be found by clicking the image below or visiting our Directory page here.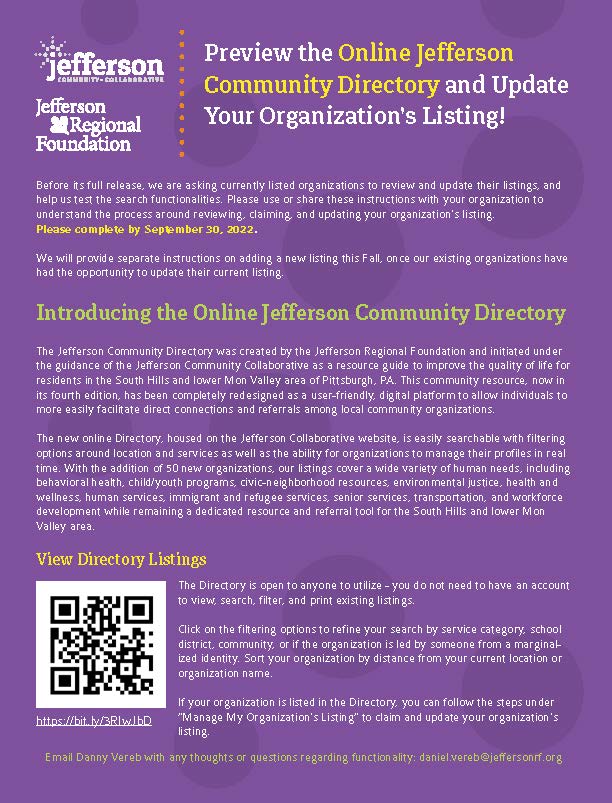 Please also enjoy some photos from our Human-Centered Activity below: